Latest News and Events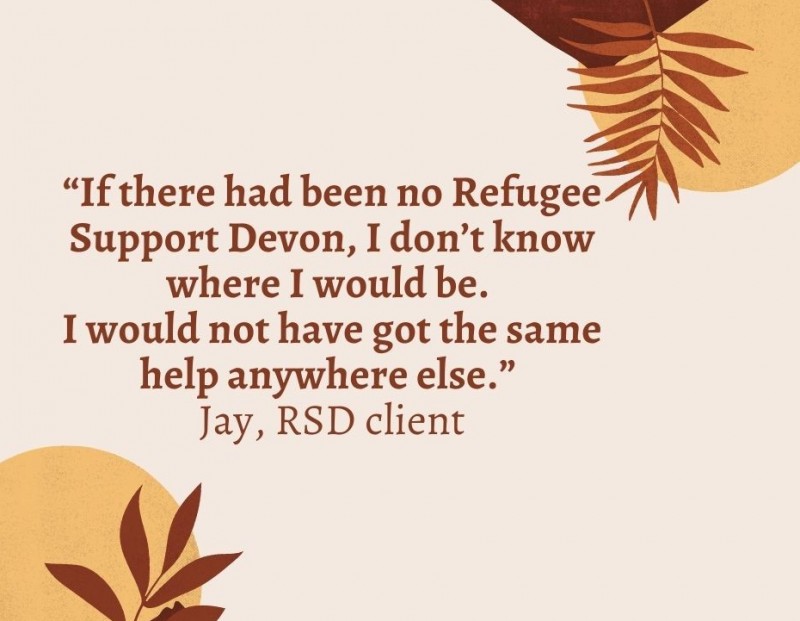 11 Mar 2022
Jay's Journey
"If there had been no Refugee Support Devon, I don't know where I would be. I would not have got the same help anywhere else."
Jay is from Africa and has been in the UK for just over 20 years. He came when he was 18 to live with his mum in London and ended up overstaying his visitor's visa. He moved with his partner to Devon and they had two children. When the relationship broke down, Jay became destitute and homeless. His various applications for leave to remain were unsuccessful.
After several more applications and appeals, Jay was finally given leave to remain, but with no recourse to public funds. "I was in a desperate situation with no money, no home, no job and no other means of support when I came to RSD," he says quietly. Little by little we helped Jay to piece his life together again. We put him in touch with another charity to have the "no recourse to public funds" condition lifted, worked with him to put a CV together and apply for jobs, helped him find temporary accommodation, and gave him emergency financial support (see facing page). Jay's situation had left him in a state of depression so we gave him plenty of emotional support and cups of tea too.
Four years on, Jay is in a much happier place now. He has a regular job, he's moving into his first secure home soon and he is making an appeal for joint custody of his younger child. The older one is an adult now, so Jay has regular contact with him. He's also recently had his leave to remain extended by two and a half years, so there's a definite spring in his step now as he looks forward to a fresh start in a country that's been his home for over 20 years.
"RSD is my big parent. I am what I am because of you."