RSD seeks interim manager - could YOU be the right person to manage RSD for the next six months?
Latest News and Events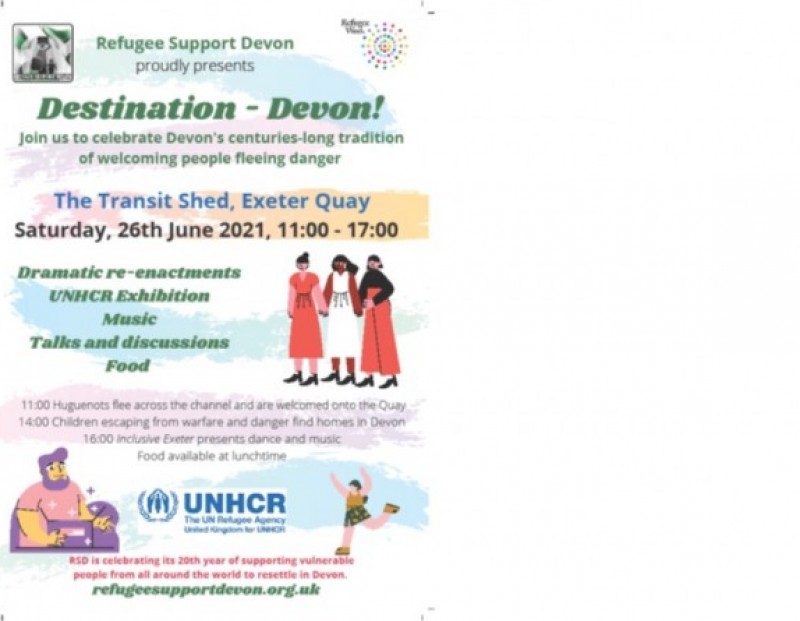 03 Jun 2021
Refugee Week event at Exeter Quay on 26 June!
On 26 June RSD will be hosting an outdoor Refugee Week event at Exeter's historic Quay to celebrate our region's centuries-old tradition of offering sanctuary to people at risk from across the world.
We want to pay tribute to the bravery and strength which every refugee shows in escaping horrors in their homeland to reach a place of refuge and safety in Devon. We also want to celebrate how each wave of newcomers has added to the rich cultural mix which we all now enjoy in our city, towns and villages.
The day-long series of events will feature re-enactments on the Exe River of refugee arrivals, including the Huguenots fleeing religious persecution in 17th century France, children sent to Devon to escape the bombing of London in World War Two and escaping Nazi Germany, and the arrival of refugees from the Middle East and Africa in the present day.
On dry land an exhibition by the United Nations refugee agency UNHCR, housed in a genuine tent used in refugee camps across the world, will show how one family from Syria received the generous support of a whole community in Ottery St Mary. RSD and its local partners will show how modern arrivals are offered a wide range of support, from the big issues of housing and schools to the day-to-day complexities of banking and bus passes. The Transit Shed on the Quayside's north shore will house a photo exhibition and a wide range of music and food; and a panel of invited speakers, including members of the diverse communities who have made their homes in the area, will share their experiences, and offer a flavour of the contribution they have brought to the life of the city and its surroundings.
Everything on offer, from 11am to 6pm, is accessible to all and will be free.
A flyer with information about the event is available by clicking here.
We hope to see you there!