RSD seeks interim manager - could YOU be the right person to manage RSD for the next six months?
Latest News and Events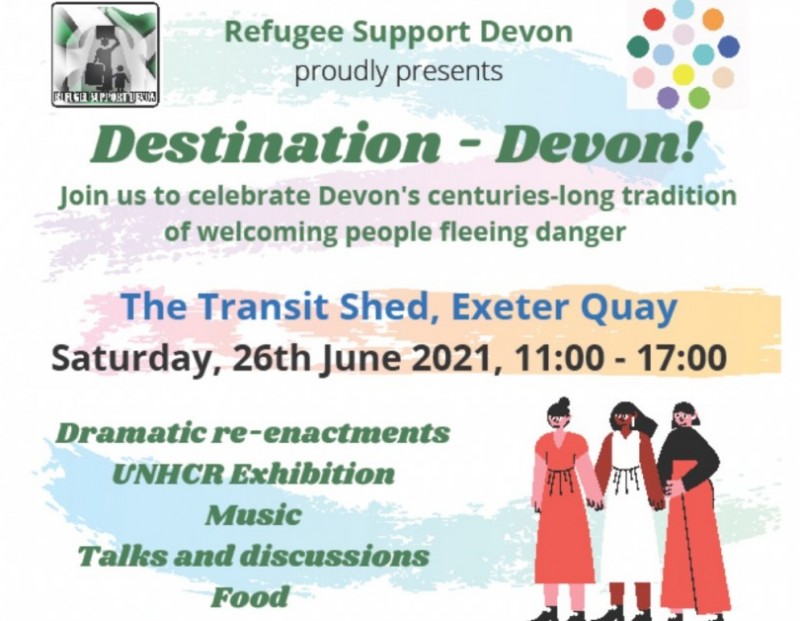 02 Jul 2021
RSD event on 26 June - thank you for coming!
Last Saturday on the Quay – what a joy!

We emerged blinking from our Covid hidey-holes like moles from the ground and had a great day on the Exeter Quay at "Destination Devon!" – our Refugee Week event this year.

It was a bright, sunny and windy day which suited us very well – we felt quite safe as the breeze whipped through the bunting and let us chat to friends old and new.

We had more than 20 plus different groups and organisations contribute to the day – actors, musicians, community groups, our clients, our volunteers, our staff, friends, local (and not-so-local) academics, immigration law experts, photographers, vloggers…. And the UNHCR who brought a tent as used by refugees around the world.

We had a very varied programme through the day – starting off with a dramatic re-enactment of the Huguenots arriving in Exeter, the rest of the day was punctuated by live music, scholarly talks and discussions, and ended on a high with music and dance from Inclusive Exeter.

I was quite busy at the far end of the Transit Shed – so didn't get much chance to listen to the speakers – so for me the real joy was catching up with families whose children had all grown by the yard since we'd last met 18 months ago, seeing all of you volunteers and staff who turned up to help, and being able to chat with many members of the public who were enthusiastic and positive about the work Refugee Support Devon is doing.

We had a great event! Thanks again everyone.

Liz Oxburgh, RSD trustee

RSD supporter Debs Gallacher took photos on the day and you can see them by clicking here. Other people took photos and we will be publishing a selection here and in our next newsletter in the coming weeks, so please look out for them. If you took any photos and would like us to add them to our collection please e-mail them to info@refugeesupportdevon.org.uk but if you photographed anyone's face please make sure you have their permission for us to publish their picture before you send it to us.

We would like to take this opportunity to thank the organising team – all volunteers – who put in so much hard work to make this day such a huge success. So – THANK YOU! – to Jeremy Toye, Anita Caproni, Jenny Longford, Anna Jameson-Evans, Grace Frain and Liz Oxburgh. A huge 'thank you' also to all the volunteers who gave up their time to help out on the day, too many to list (and we wouldn't want to miss anyone out) but you know who you are and you know how important your contribution was. Lastly – but by no means leastly - our heartfelt thanks to everyone who has donated to RSD in the past week, either via our 'donate' page or Jeremy's JustGiving page. We're deeply grateful to everyone who has helped so far to offset the day's expenses and if anyone would like to make a last-minute contribution we will be very happy to hear from you.